Common Core & Struggling Learners
» Positive/Negative Numbers PD
Math Accessibility


New Summer PD Course!
Building Math Knowledge for Teaching Struggling Learners: Fraction Standards (CCSS)
What's the math content? Fraction concepts from the Common Core State Standards for grades 4 and 5. Topics include representing fractions; area and linear models; equivalence; comparing and ordering; and adding, subtracting, and multiplying fractions.
Who should attend? General educators/math teachers and special educators (grades 4 and 5). We encourage you to participate with colleagues. Math coaches are welcome. No prior experience with on-line learning is needed.
What will you learn in the Fractions course?
Key Common Core fraction topics, including area and number line models; equivalence; comparing and ordering; and adding, subtracting, and multiplying fractions.
Powerful diagnostic approaches for identifying students' fraction understandings and difficulties
Evidence-based practices to address students' misconceptions
A wide variety of strategies to support students in exploring fraction concepts—manipulatives, visual representations, number lines, kinesthetic activities, and computer applets
Our blended approach allows for flexibility in learning!
1 Introductory and 1 Mid-course Face-to-Face Sessions
6 Online sessions each session lasts one week and you can work at times of your convenience.
Scheduling: the full course lasts 10-12 weeks and can be scheduled to fit your district's needs
Options: Earn 3 graduate credits or a Certificate of Completion for 38 PD hours.
Interested in taking or hosting the course during the school year? Email us.
Instructors: Three EDC senior professional developers–Cheryl Tobey, Emily Fagan, and Amy Brodesky–will teach the course. All three have decades of experience providing PD on math accessibility, formative assessment, and other high–priority topics.
Find out what past participants have to say about the Fractions PD.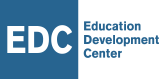 | ©2003-2018 Education Development Center, Inc. All rights reserved.
This project is supported by the National Science Foundation Grant No. 1621294. Opinions expressed are those of the authors and not necessarily those of the Foundation.