Accessibility Strategies
The following documents are in PDF format. To view them, you need the free Adobe Reader software.

Accessibility Strategies to Consider
A list of strategies to consider when planning and teaching accessible lessons (1 page).
Guiding Questions for Accessibility Strategies
Guiding questions for planning, implementing, and evaluating strategies (1 page).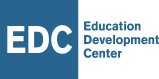 | ©2003-2020 Education Development Center, Inc. All rights reserved.
This project is supported by the National Science Foundation Grant No. 1621294. Opinions expressed are those of the authors and not necessarily those of the Foundation.