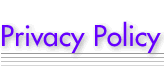 At Making Mathematics (1999-2002), we took every precaution to secure parental consent before we engaged children in our program.
Children who registered directly on our Web site were not permitted to participate in our program until their parents had been notified. For children under 13, parents also needed to send written approval via electronic mail, fax, or regular mail.

When teachers registered students for Making Mathematics, we asked the teachers to let us know the ages of the students. For students under 13, teachers also submitted parental consent forms before the students could participate.
Under no circumstances were electronic mail addresses or personal information about students, teachers, or mentors divulged to parties outside the Making Mathematics project.
The Federal government has issued a series of regulations governing the privacy of children participating in Internet-based activities. For further information, see The Region VIII Education Service Center Resources.
In compliance with the Federal Children's Online Privacy Protection Act, we collected student electronic mail addresses and parent contact information only to establish parental consent and to send parents notification of their children's involvement in the Making Mathematics program.
In addition to contact information, Making Mathematics collected information to determine a child's mathematics experience in order to match him or her with a mentor. We determined the computer equipment available for the child's use, since we varied our strategies for engaging children in mathematics research to match the equipment available to them. If a child participated through a school, we also collected the school's name and address as well as contact information for the teacher.
If during the course of normal correspondence with mentors, students shared personal information with a mentor, mentors were advised not to share this information with anyone else. Mentors adhered to the legal restrictions imposed by the Children's Online Privacy Protection Act and other federal legislation. They did not forward messages from a child to anyone else (whether or not they contained personal information), nor did they divulge a child's electronic mail address to anyone.
Information was used strictly within our project to facilitate a child's mathematical learning. The information was shared among Making Mathematics staff, participating teachers, and mentors working on the project. We asked teachers and mentors to keep all information private and no information was disclosed to outside parties. Certain general statistical information (provided by students or by teachers whose classes participated in mentoring projects) was used for academic research and reporting.
All parents of students involved directly with a mentor were sent letters of notification informing them of their child's participation in the program. In addition, parents of children under 13 who signed up for the program were sent consent forms to sign and return before their child was allowed to participate. At any time, parents of children aged 18 and under could deny consent for their child to communicate with a mentor. In addition, the parents of any child participating in Making Mathematics research projects could review the child's personal information, ask to have it deleted, and refuse to allow any further collection of information or use of the child's information by contacting the Making Mathematics staff. We asked our mentors to retain every message sent to or from the students and teachers who participated in their projects and we provided a parent access to available information regarding his or her child.
In addition to being a project that provided resources to students and teachers, Making Mathematics is also a research project. Mentor-student or mentor-teacher communication was collected and recorded as part of our program and was used to benefit future projects and students' mathematics learning as a compilation of case studies. In some cases, students chose to submit finished work for publication, or we solicited student work to be used as a published resource, either in print or as a part of our Web site, as examples of Making Mathematics outcomes. Permission to reproduce or publish any student work was sought and obtained from the parent(s) of that student before it was used in any public way.